Featuring:
Mpenzi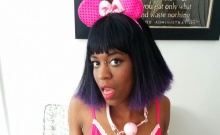 Avg Rating : 0.0
Yokoso, Bienvenido, Welcome Friend!
Over 7 Years of Modeling and Creative Directing!
Paid Opportunities only. Artistic Trade upon request.

'I prefer to be called a muse. I'm sex & body positive.'

Artistic Profession: Modeling, Erotic/Fetish Entertainment.
Career Profession/Freelance: Creative/Fashion Directing
For Fun: I'm a gogo dance.
*Below are rates for modeling, adult work, bdsm performing, and gogo dancing.
rates are flexible, please message to inquire.

Personal Site: Mpenzi