Featuring:
Dominatrixes against Donald Trump (DAD)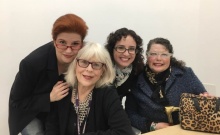 Avg Rating : 0.0
Hi. Welcome to D.A.D, A place to for Dominatrixes and their allies to exchange ideas and organize political actions against Donald Trump.

This group is moderated by Tara Indiana, Sheree Rose and Rhiannon Aarons. We've only invited people to this group who we actually know in r/t.

You may also invite people you know, in r/t to the group. Moderators will approve members as quickly as possible.
Personal Site: Dominatrixes against Donald Trump (DAD)