Featuring:
Sex and Medicine Summit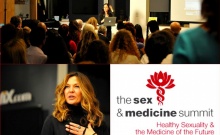 Avg Rating : 0.0
"The Sex & Medicine Summit is unveiling "what's next" on the frontier of integrative medicine, human sexuality, nutrition & neuroscience. Health care professionals and interested individuals will receive cutting-edge information & discover important connections between nutrition and libido, mental health and sex hormones, as well as cardiac health, immune function & sexual vitality. Featuring a panel event and series of interviews with over 20 medical and health experts, the Sex & Medicine Summit provides a new model for how to safely and effectively introduce sexuality--as a vital component of health--into our conversations and disciplines.


We are currently finalizing our sponsors and media partners to help us deliver this paradigm-shifting information to the largest audience possible. For those desiring to make a difference in the future of healthcare, facilitate empowering education, and model a more human approach to medicine, we welcome your participation. The online broadcast is March 24th-29th & people can sign up for free now. Here is a short video which shares some of the highlights of this initiative: http://youtu.be/-AJxoVauEAg.
www.sexandmedicinesummit.com"
Personal Site: sexmedsummit.com/
Social Media: @sexmedsummit
Facebook: @sexandmedicinesummit/