Featuring:
Eric John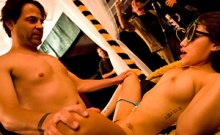 Avg Rating : 0.0
CEO Eric John graduated from MIT with a BS in Aeronautical and Astronautical Engineering and a Music Minor. He was hired at Hughes Space and Communications as a Systems Engineer while a sophomore at MIT, and stayed at the company through Hughe's purchase by Boeing.

As he rose through the management ranks at Hughes/Boeing, he was involved in satellite systems that formed the basis of Optus (Australia), DirecTV, Sirius/XM Radio, and Thuraya (Middle Eastern telecommunications), among many others. On staff to the Office of the President, he was intricately involved with the merger of military aviation and space divisions into Integrated Defense Systems (IDS). He also at one point was in charge of Policies and Procedures including Earned Value Management for the Boeing Company.

Eric John is a four-consecutive-year XBIZ Performer of the Year nominee, among his numerous industry recognitions.

Eric produced and directed "Romance X" which was released by Smash Pictures and earned an XBIZ nomination in 2016 for Vignette Release of the Year.
Personal Site: EricJohn's Website
Twitter: @Eric_John
Episode Bloggamy: Free Love then and Now
Episode Bloggamy: Porn Charlie Sheen Masturbation Month Orgy on DrSusanBlock.tv
Episode Bloggamy: Group Sex in the Digital Age